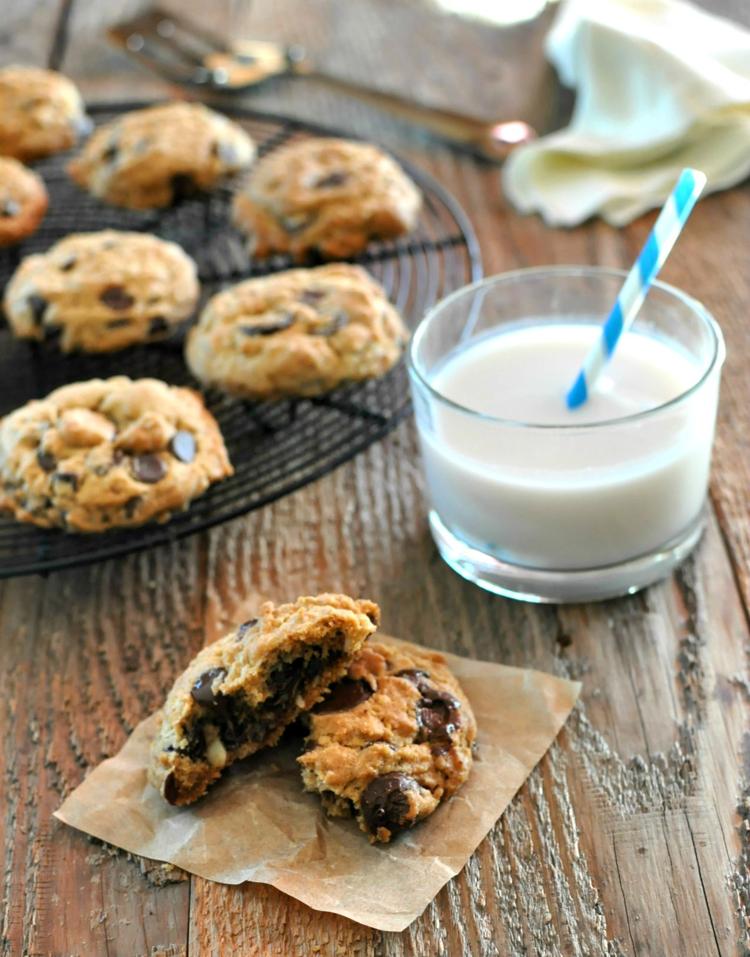 The one thing that most of us have in common is a love for a good cookie, and in today's world where modern technology can help us dial up what we like, and dial down what we don't, it's easier than ever to turn out a batch of cookies so perfect that you might think they're a God-given, heaven sent treat.
For those of us interested in learning more about tweaking a favored cookie recipe to bring out better taste, texture, and appearance there's an illuminating TEDEd animation on cookie science online.
For those who have more free time available, Serious Eats also offers a full 21, painstakingly-tested steps on how to create the perfect cookie, which includes kneading times, and even chocolate preparation techniques.
These two very deep dives into cookie dough deconstruction help explain-at length-the role that each and every recipe ingredient plays, and the importance behind when and how you add the ingredients, and how it plays a defining role in the resulting taste, texture, and shape of your finished cookie. However, since most time is precious, I thought I'd offer the Cliff Notes version, which makes for easier reference in the future, too.
If you like your cookies extra ooey-gooey then add more flour to the recipe at the very end of mixing the dough, and don't stir too much, just gently fold in so it doesn't get tough.
If you like caramelization then crank your oven temperature up to about 365 degrees to achieve a caramel-colored appearance.
If you like a crispy edge and exterior, but a softer center, blend in an extra 1/4 teaspoon baking powder and 1/4 teaspoon baking soda into the flour before you add it to the dough in your cookie recipe.
If you like cookies that are chewier, try substituting bread flour for all-purpose flour in your recipe, and most importantly, if you want to improve your cookie's flavor, chill the dough for at least 24 to 48 hours before baking. This resting time allows flavors to penetrate and deepen, giving you a much more flavorful cookie. That said, 48 hours has proven to be optimal, while 72 hours appears to be too long, as it tends to cause the flavors to start fading. Personally, I have found that freezing cookie dough provides you the best of both worlds because it gives dough the time it needs for flavors to develop and not fade, and it provides you with a ready-to-bake dough whenever a cookie craving comes along.
To this I must add in two absolute rules for cookie baking:
1.) Always use fresh baking soda, and baking powder because if they fail, so will your cookie.
2.) Slightly under-bake your cookies because it will make them more tender. They are a little trickier to handle like this, but if you leave them on the cookie sheet for a few minutes to stiffen slightly, it will make  them easier to handle.
Here now are three technologically-engineered ways to blend up a millennial-minded mound of amazing, chocolate chip cookies for all the cookie lovers in your life — ENJOY.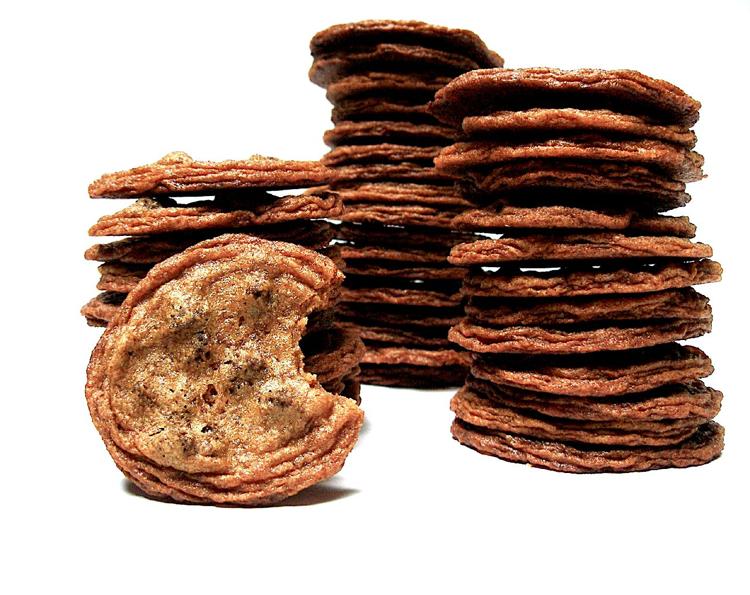 Crisp 'n' Chewy Chocolate Chip Cookies
1 3/4 cups unbleached all-purpose flour
14 tablespoons unsalted butter  
3/4 cups packed dark brown sugar
1 teaspoon unrefined sea salt
2 teaspoons pure vanilla extract
1 1/4 cups semisweet chocolate chips or chunks
3/4 cup chopped pecans, or walnuts, toasted (optional)
Adjust oven rack to middle position and heat oven to 375 degrees. Line 2 large (18- by 12-inch) baking sheets with parchment paper. Whisk flour and baking soda together in medium bowl; set aside. In a 10-inch skillet over medium-high heat, melt 10 tablespoons of the butter. Continue cooking, swirling pan constantly until butter is dark golden brown and has nutty aroma, 1 to 3 minutes. Remove skillet from heat and, using heatproof spatula, transfer browned butter to a large, heatproof bowl.
Stir remaining 4 tablespoons butter into the hot butter until completely melted. To butter, add both sugars, salt, and vanilla and whisk until fully incorporated. Add in egg and yolk and whisk until mixture is smooth with no sugar lumps remaining, about 30 seconds. Let mixture stand three minutes, then whisk for 30 seconds. Repeat process of resting and whisking 2 more times until mixture is thick, smooth, and shiny. Using rubber spatula or wooden spoon, stir in flour mixture until just combined, about 1 minute. Stir in chocolate chips and nuts (if using), giving dough final stir to ensure no flour pockets remain.
Divide dough into 16 portions, each about 3 tablespoons. Arrange 2 inches apart on prepared baking sheets, 8 dough balls per sheet.
Bake cookies, 1 tray at a time, until cookies are golden brown, still puffy, and edges have begun to set but centers are still soft, about 10 to 14 minutes, rotating baking sheet halfway through baking.
Transfer baking sheet to wire rack; cool cookies completely before serving.
Everything and More Chocolate Chip Cookies
1/2 cup unsalted butter, softened
1/3 cup packed brown sugar
1/2 cup pure peanut butter
1 teaspoon pure vanilla extract
1/2 teaspoon unrefined salt
1/2 cup old fashioned rolled oats
1 cup semisweet chocolate chips
Preheat oven to 350 degrees. In a mixing bowl, cream together butter and sugars until smooth, about five minutes. Stir in peanut butter, vanilla and egg then blend until well combined. In a separate bowl, combine flour, baking soda, salt and oats then stir into batter just until moistened. Add chocolate chips and stir just until evenly distributed. Drop by tablespoonfuls on to lightly greased cookie sheets. Bake for 10 to 12 minutes or until the edges start to brown but centers are still soft. Cool on cookie sheets for 5 minutes before transferring to wire racks to cool completely.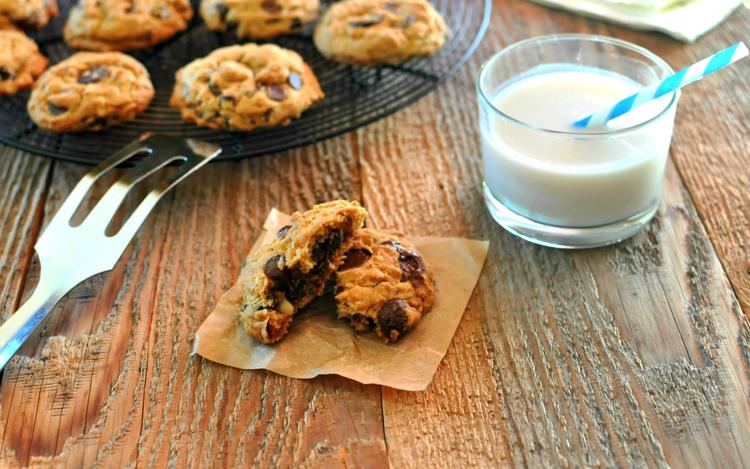 Oh-so-chewy Chocolate Chip Cookies
1 cup unsalted butter, melted and cooled
1 cup packed light brown sugar
2 1/2 cups all-purpose flour
3/4 teaspoon unrefined sea salt
2 large or extra-large eggs
2 teaspoons pure vanilla extract
2 cups semisweet or bittersweet chocolate chips
In a large bowl, whisk both sugars together, making sure to break up any large chunks. Add the melted butter and whisk vigorously for one minute or until the mixture forms one mass and starts to pull away from the sides of the bowl. Let the sugar-butter mixture rest for five minutes. Meanwhile, in a separate medium bowl, combine flour, salt, and baking soda, whisking to blend well. Set aside. Returning to the sugar-butter mixture, whisk in an egg, stirring until it's fully mixed in. Scrape the sides of the bowl with a flexible spatula then whisk in the second egg and the vanilla. Scrape the sides of bowl again to make sure everything is fully incorporated. Add the dry ingredients to the wet ingredients and stir with the spatula to fully combine. Stir in the chocolate chips.
Using a cookie scoop, scoop dough into 2-ounce portions, and place on a parchment-lined baking sheet. Lightly press the scoop down so it's flat across the top like a hockey puck. Wrap the baking sheet tightly with plastic wrap and refrigerate for at least 4 hours and up to 3 days. You can also freeze the chilled balls of dough in an airtight zip-top bag for up to 1 month. Thirty minutes before baking, preheat the oven to 300 degrees. Bake cookies 3-inches apart on a parchment-lined baking sheet for 18 to 22 minutes, until the edges are set and the cookie is lightly golden brown throughout. Let cool on the sheet for 5 minutes then transfer to a wire rack to cool completely.