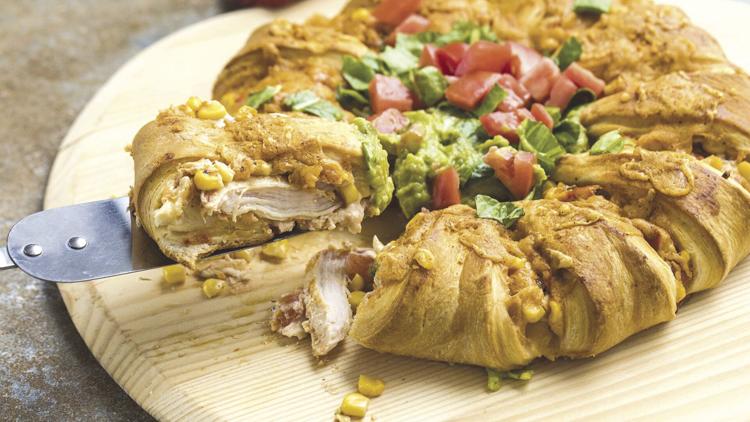 With Thanksgiving in our rearview mirrors, and our Northern Michigan headlights pointing straight into winter, we can't help but focus on two important tasks: Being well prepared for winter's blast, and being armed with recipes to help us eat up all the Thanksgiving leftovers.
With respect to the former, a peek into the Farmers' Almanac 2021 shows that our winter predictions give us a snowfall below normal, with the snowiest periods occurring in early and mid-December, mid- to late-February, and early to mid-March — no surprise.  However, temperatures are predicted to be above normal, on average, despite cold periods in December and January, and while it may not always be easy to predict upcoming weather in Michigan, the making of new dishes from old Thanksgiving leftovers is predictably easier, especially if you've got some great new recipe ideas tucked up into that warm winter sleeve.
What's interesting is that when it comes to leftovers, there appears to be two camps: One that loves them like crazy, and one that despises them so much that any remains tend to land in the dog dish.
Personally, I have a foot in both camps because while some dishes do make for great leftovers, others not so much.
That said, when it comes to Thanksgiving, there is such a great mix of leftovers that they are not only suitable for a repeat performance, but also (especially for those who don't like leftovers) quite incredible when used to create an entirely new dish.
My mom, God bless her soul, used to set aside one leg, one thigh, and both wings that she would stuff inside the turkey carcass after she removed every last lick of meat from its bones.  
She'd  wrap the carcass up tight for freezing then pull it out in the middle of winter and make us a warm pot of delightful leftover, turkey soup.
 I can still remember how the roasted turkey skin and meat made that soup taste just oh-so-good, and how tender the meat would become from swimming in her soup, too. Ah, memories.
Since Mom had seven children, she didn't have a concern about leftovers because nothing lasted long in our house, but today's smaller families coupled with COVID this year will likely give us ample opportunities to play with leftovers in new ways.
There are all kinds of great ways to turn Thanksgiving leftovers into what some call "re-do" recipes, which are crafty ways of concealing the fact that the dish contains left over food at all.
So crafty, in fact, that you just might be able to sneak them past even those leftover snobs.
When planning to re-use Thanksgiving leftovers, please do be sure to follow food safety guidelines, which recommend removing all meat from the turkey carcass (bones) before storing it, just like my mom did.
Also be sure to use or freeze your leftovers within three to five days from its original cook date.
FYI: Cooked turkey meat freezes best when blanketed in its own gravy.
Here now are some oh-so-easy ways to turn those Thanksgiving leftovers into dishes so delicious they will make for an outstanding encore — ENJOY.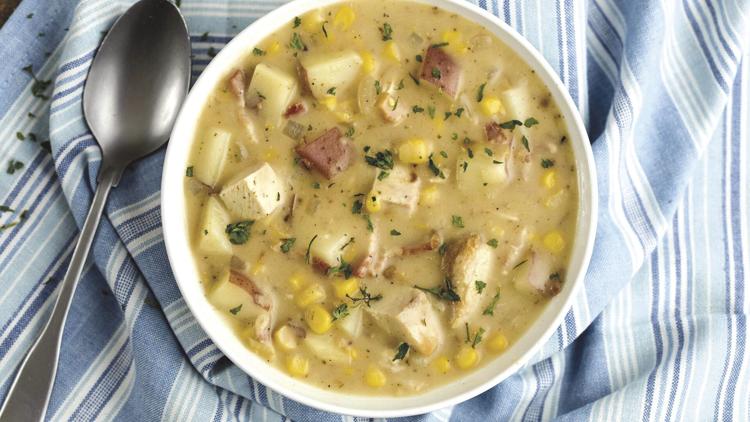 Third Coast Turkey Chowder
Prep Time: 10 minutes; Cook Time: 30 minutes; Yield: 8 servings.
4 medium red potatoes, cut in 1/2-inch cubes (about 2 cups)
1 package turkey gravy mix
2 cups cubed cooked turkey
8 3/4 ounces whole kernel corn, undrained
In large saucepan on medium heat, cook bacon until crisp. Add onion; cook and stir 3 minutes. Add water and potatoes. Bring to boil. Reduce heat to low; cover and simmer 5 minutes or until potatoes are tender.
In a medium bowl, stir together gravy mix and flour. Using a wire whisk, stir in half-and-half until smooth. Add milk mixture to saucepan, whisking in, then add turkey, corn, and sage. Bring to a boil then reduce heat to low. Cover and simmer 10 minutes, stirring occasionally.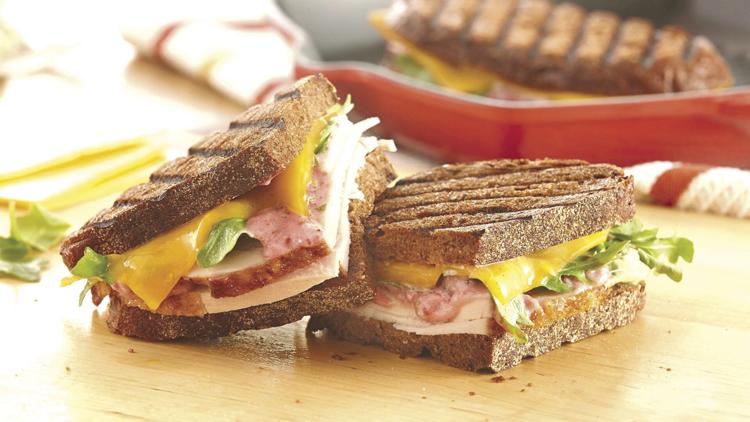 Upper Peninsula Turkey Paninis
Prep Time: 15 minutes; Cook Time: 16 minutes; Yield: 4 servings.
1/2 teaspoon ground ginger
2 tablespoons butter, melted
8 slices pumpernickel bread
1-pound sliced cooked turkey
4 slices sharp Cheddar cheese
Mix cranberry sauce, mayonnaise, and ginger in small bowl. Set aside. Spread butter on 1 side of each slice of bread. Place 4 of the bread slices, buttered-side down, on cutting board. Top with turkey, cranberry spread, corn, and cheese. Cover each with second slice of bread, buttered-side up. Heat large skillet on medium heat. Place 2 of the sandwiches in skillet. Cook 2 to 4 minutes per side or until bread is toasted and cheese is melted. Repeat with remaining 2 sandwiches.
Northern Michigan Turkey Taco Wreath
Prep Time: 25 minutes; Cook Time: 25 minutes; Yield: 10 servings.
1 package taco seasoning mix, divided use
1 cup finely chopped onion
2 cups shredded cooked turkey
15 1/4 ounces whole kernel corn, drained
8 ounces whipped cream cheese
2 cups shredded Cheddar cheese, divided use
16 ounce pkg. refrigerated crescent dinner rolls
8 ounces leftover mashed potatoes (optional)
Garnish (optional): Fill center with guacamole and fresh tomato chunks
Preheat oven to 375 degrees. Reserve 1 teaspoon seasoning mix in small bowl; set aside. Melt butter in medium saucepan on medium heat. Add onion; cook and stir 3 minutes or until tender. Add turkey, corn, garlic and remaining seasoning mix. Cook and stir 5 minutes. Remove from heat. Stir in cream cheese and 1 cup of the shredded cheese. Unroll each crescent roll dough on greased or parchment paper-lined baking pan. Separate into triangles. Arrange triangles to resemble the sun, with the center open. Press the dough where the bottoms of the triangles overlap. Spread mashed potatoes in a ring where the dough overlaps then spoon turkey mixture on top.
Fold triangle points over filling, tucking into bottom layer to secure. Continue until entire ring is enclosed. Bake 15 minutes or until golden brown. Meanwhile, stir remaining 1 cup shredded cheese into reserved seasoning mix in bowl. Remove ring from oven. Sprinkle with cheese mixture. Bake 5 minutes longer or until cheese melts. Serve with desired toppings.
From now until the end of the year, I will be holding a special, weekly online holiday gift giveaway exclusively for Cadillac News readers.
For your chance at these special prizes, be the first person to answer this week's question correctly: "How many days do you have to freeze turkey after cooking it?"
Be sure to provide your name and contact information, and happy holidays.
Each week, from now until the new year, there will be another chance to win a wonderful gift prize. Good luck, and thanks for reading the Cadillac News.