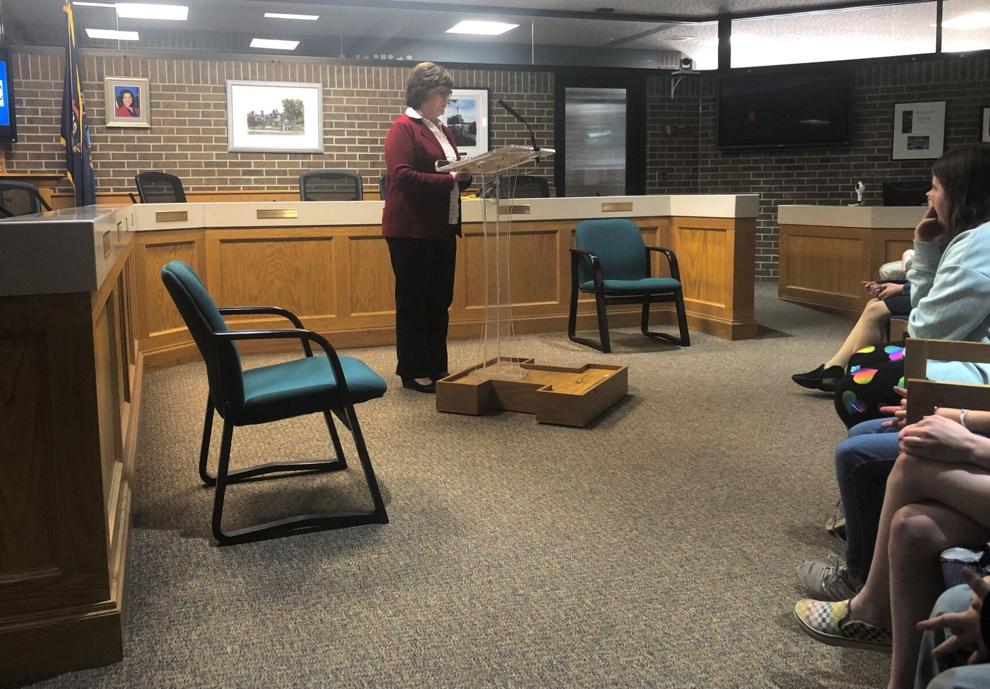 CADILLAC — In its 38th year as an official Tree City USA, the city of Cadillac hosted an Arbor Day celebration Friday with students from surrounding schools. It was the first in-person Arbor Day in three years, and city hall didn't have a single empty seat.
The event began with Zoning Administrator Mike Coy welcoming the crowd to the celebration, giving a brief overview of how things were going to proceed. He then introduced Mayor Carla Filkins, who gave the Arbor Day Proclamation.
In the proclamation is a promise to encourage the planting of trees and the protection of Cadillac forests and wildlife.
With Arbor Day made official, Coy took to the podium again to give a brief history on how the holiday began.
Julius Sterling Morton arrived in the state of Nebraska in 1885, and almost immediately noticed there were no trees in sight. Using his position as a newspaper editor, he promoted the planting of trees by the members of the community.
In Coy's retelling, he said the first Arbor Day was highlighted with a parade, where children from nearby schools walked downtown and gathered to celebrate nature. Ever since then, communities around the country have followed suit and celebrated Arbor Day in their own way.
By the end of Coy's speech, city employees had been informed that the utilities department had planted 300 trees to participate in Arbor Day.
Closing out the event, Franklin Elementary School Principal Jamie Heuker announced first, second and third place winners of an Arbor Day themed creative competition. Elementary students from several local schools had the option to either draw, paint or write about Arbor Day, and the winners' finished products hung in the lobby of Cadillac City Hall.
"With us being a Tree City, I think that's neat for the kids to know. I don't know how many actually knew that before, that we are a Tree City, USA, and there's a process that goes into that," she said. "So Mike and I will collaborate on that, and then I just think it's important for them to get out into the community and collaborate with the community."
The city's annual celebration of Arbor Day includes participation from several community groups and organizations. Members of Up North Arts and the Cadillac Senior Center trade off the job of judging students' projects each year. This time around, it was up to the seniors.
Heuker said it's a great opportunity for the community to work together, and to inspire local students.